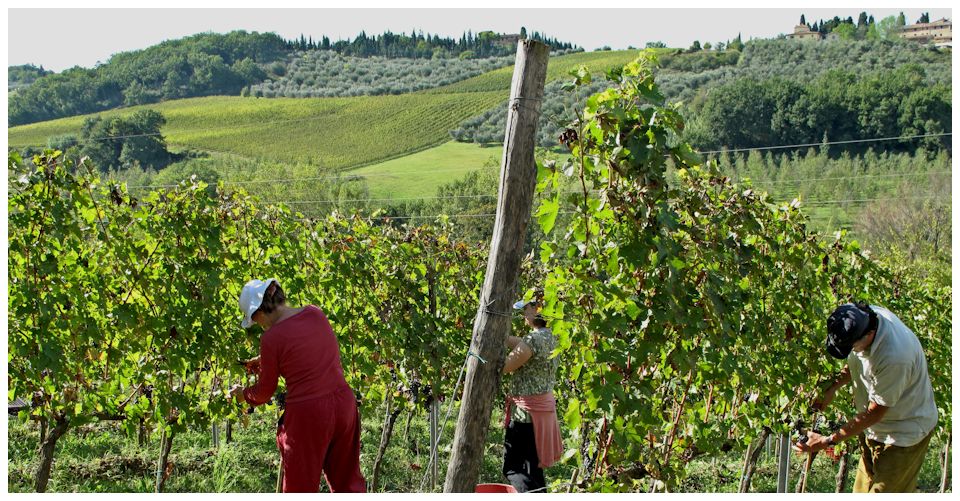 Our history
In 1990, relocating from Florence to the farm Il Bacio, our family fulfilled its dream of a return to a simpler life in touch with nature. We also managed to turn it into our job, producing wine and olive oil and choosing from the very beginning to use organic methods, in line with our values.
The farm
Nestled among the hills of Florentine Chianti, between the towns of Tavarnelle and San Casciano Val di Pesa, our farm spreads over 13 hectares, of which there are 3.5 hectares of vineyards, 4.5 of olive groves and 5 of woods of cherry trees, alders and walnut trees.
Since 1990, all stages of farming and processing have been strictly carried out according to organic standards, as certified and guaranteed by the Institute for Ethical and Environmental Certification (ICEA).
Our organic wines
Our organic wines, obtained from our vines of Sangiovese, Cabernet Sauvignon, Merlot, Moscato Giallo, Chardonnay and Malvasia Bianca, undergo spontaneous fermentation without added yeast and they are not filtered. This allows each of our wines to maintain its natural characteristics and uniqueness.
Visit to the cellar and wine tasting
Franco and Daniele will be glad to welcome you to our ancient cellar to walk you through the main steps of the wine-making process and to taste our organic wines alongside local specialties. Our wines can be shipped all over the world.
Upon request, we can organize dinners and events for groups of up to 25 people.
Chianti DOCG
Produced mainly from our Sangiovese grapes. Intense aromas of red-cherry fruit and great acidity not only reflect the character and tradition of the Chianti territory but, more importantly, those of Il Bacio.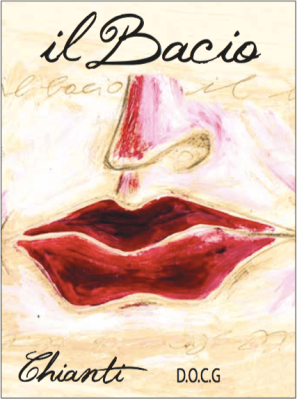 Chianti DOCG Riserva (available from January 2020)
Our Riserva is made only in the very best vintages and only from a careful selection of our Sangiovese
grapes. At least two years ageing in oak casks result in a full-bodied, yet elegant wine, rich with aromas of red fruit and hints of spice.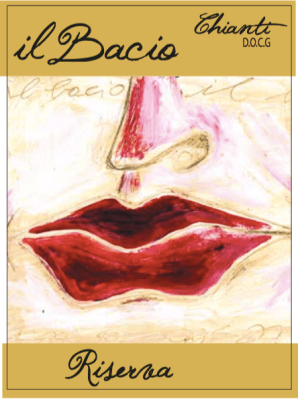 Cabernet Sauvignon
Made exclusively from Cabernet
Sauvignon grown in our oldest vineyards, this wine is our unique expression of this well known variety. Perfumed and complex; intense, yet rounded and perfectly balanced. A true meditation wine.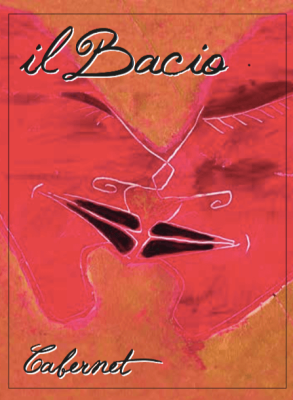 IGT Savium
Savium is produced from a selection of
our best red varieties. It is a wine that closely reflects each particular vintage and as such, the blend varies each year. Sweet, rounded fruit and soft tannins, make Savium a great, all-occasion wine.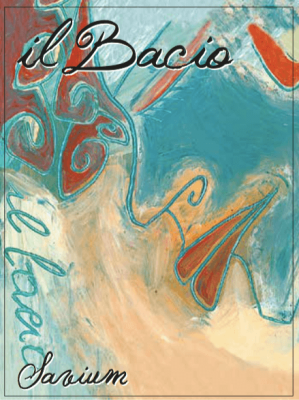 IGT Bianco Unico (available from May 2019)
We make a very limited amount
of our white wine, Unico, from a field blend of our five white
grape varieties. Some skin contact during fermentation adds an incredible aromatic complexity to this fresh, vibrant wine.